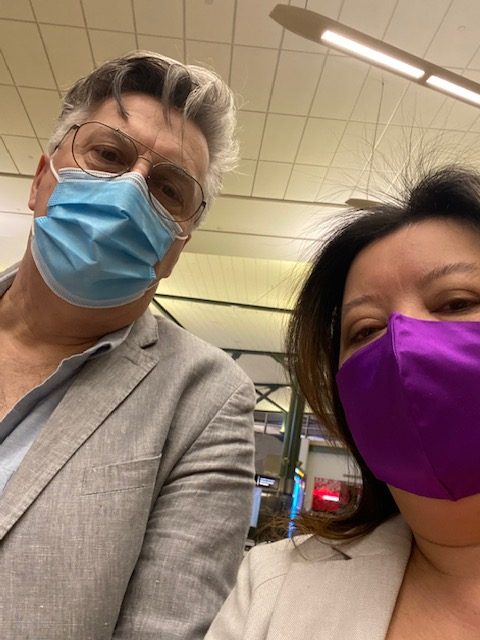 Here are my 10 carry-on travel essentials. Over the years the list changes as travel changes. Preparing ahead for a successful trip never changes.
Vaccination documents.  I printed a copy of the travel documents and organized them in a duo-tang folder.  We had them electronically, but it is far easier to hand over a printed booklet organized with tabs to customs or airline officials.  Especially when the officials are behind a plexi-glass divider. 
Travel package sanitizing wipes and a pack of tissues.  Whether cleaning up after a meal or cleaning an area to sit we found them very useful.
Extra Masks.  Times have changed due to Covid.  Several medical grade masks that are comfortable is a must.  I like having my mask on a leash so I can let it hang while I eat or drink.  2019 I was on a flight from Vancouver to Hong Kong.  One of the passengers became very sick. The stewardess attending to the passenger put on a mask.  Passengers around the sick passenger began to request a mask.  When the stewardess ran out of disposable masks passengers began to grumble about their rights to be provided a mask to wear.  How dare the airline run out of masks.  How times change!
The cables, adapters, and the charging block.  Packing cubes have been on the market for a while.  I found one that fit our electronic charging accessories perfectly. 
Power bank for charging phones.  I picked up a power bank to charge phones a few years ago and it has worked amazing.  It charges a phone quicker than the plug-in adapter.  I keep it in an outside pocket on my travel pack.  I take it out to go through security.  They don't ask for the power bank to be removed but every time I don't I end up in secondary screening.
Two days of clothing.  I have had my checked baggage delayed so often it is better to assume I will arrive without my checked bags.  I found a packing cube that fits my travel bag perfectly.  It is so much easier to dig something out when my clothes are in a packing cube.  So much easier at security if selected for secondary screening. 
Toiletry bag.  I use a Tumi bag that is airline approved for liquids and gels. I include medications for the trip (never in checked baggage).  Shaving needs, toothpaste, and deodorant. 
Be security ready.  Plan for security by preparing ahead.  Slip-on shoes are so much easier especially for flights over the US as shoes must be removed and x-rayed.  Comfortable pants with a plastic belt buckle or no belt.  I have comfortable cotton dress pants with an elastic waist that are my favorite.  I also like to wear a sport coat as it gives me pockets for coins, watch and boarding pass.  Comes off quick to go through x-ray.  Remember that security is different every time you go through.  This is by design.  By being a little unpredictable makes it more secure.  Items that didn't have to come out one time may need to another time. 
Professional attire if you want to be upgraded.  I have found I am more likely to get moved up a class on a flight if you dress like you belong there.  They don't pick scruffy people wearing sweats and move them up.  How you look and act goes a long way in how you are treated in the entire travel experience.  Look professional and smile! 
Something to do.  A book or magazine.  I take my iPad.  Remember to download at home what you want to watch.  I bring noise cancelling headphones and cords to connect.  Some Asian airlines to not allow the use of Bluetooth headphones.  On long flights I find using the cord for my headphones rather than Bluetooth saves battery life.  On long flights I enjoy binge watching TV Series that I downloaded ahead of time.  Most streaming platforms like Netflix allow you to download content onto your tablet for personal viewing.